| | |
| --- | --- |
| | |
Drug Development with Speed, Efficiency and Quality
"First to market can mean a market share twice
as much as the competitor"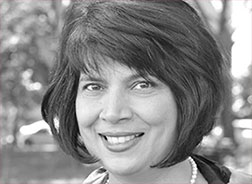 Interview with: Janaki Joshi,
Chief Executive Officer,
Iris Interactive Corporation
"Knowledge gathered in drug develop-ment does not get shared adequately," according to Janaki Joshi, Chief Executive Officer, Iris Interactive Corporation. "Every week of delay costs millions of dollars. There is a need for a centralized platform to manage information, so all teams can operate more efficiently, benchmark, monitor how long processes take, identify sources of delay and quickly fix them," she suggests.
Iris Interactive Corporation is a solution provider at the marcus evans PharmaMarketing Summit 2015, in Palm Beach, Florida, May 11-13.
What slows down innovation and time to market the most? What do pharmaceutical marketers need to know?
Pharma companies are traditionally organized around functional silos, with the drug development process typically taking 8-12 years, which is a very long period of time.
At first, it is mostly managed by the R&D team, then the clinical and commercial teams. Throughout this process, information is not shared properly, so the commercialization team cannot leverage what other teams have learned over many years. This inefficiency slows time to market.
In addition, as the process is long, very few companies are benchmarking. Companies are not tracking the time taken for an asset to go from lead generation to lead optimization, assay development, pre-clinical and phase I. Phase II cannot even start before I is fully closed out. This causes further delays.
The third source of delay is because there is no integrated platform to manage assets over the 20-year patent period until loss of exclusivity. As a result of this lack of visibility, senior management are not informed about sources of delay, missed milestones and whether they are ahead of the benchmark or behind it.
How can software help companies achieve higher sales and stronger brands?
A global platform purpose built to manage the asset over the 20-year patent period would provide visibility, efficiency and velocity, and save millions of dollars. For an asset worth USD 625 million in revenue per annum, each week of delay costs USD 12 million. We are talking big dollars here. A central-ized platform to manage the asset would help teams operate more efficiently, help them benchmark, monitor processes and make decisions to quickly address issues.
Costs have already been reduced; companies have already cut their head count. However, many sources of delay have not yet been addressed, which can bring more revenue. Gone are the days of blockbuster drugs. Many indications today are for rare diseases, so pharma must become more nimble, virtual, collaborative and make decisions faster.
Companies need to quickly kill assets that do not hold much promise instead of wasting valuable resources. If they could make these calls earlier on, focus on the winning assets and bring them to market faster, innovation would thrive.
What is critical for capturing critical processes, timelines, teams and documentation?
The process for launching a product is not rocket science, but there is a need to streamline the process, have a framework and timelines to bring the right people in at the right time.
A lot of business is done over email attachments today. People are afraid that sensitive information can reach the wrong hands, so they keep things to themselves. People get frustrated when they do not have the right information to get their job done or when they must wait for others to supply it to them.
Also, another critical area is collaborat-ing with business partners such as advertising agencies, CROs and CMOs, beyond email and drop box.
Having a cloud based collaboration platform that manages the process and provides access to the right information, would empower internal and external teams to operate at a whole new level. The same Mercedes Benz can go much faster on a US highway than in Bangkok where the traffic can be a challenge. With good flow it can go 80 mph. That is the difference.
First to market can mean a market share twice as much as the competitor. If you are second or third to market, you are too late.
About the PharmaMarketing Summit 2015
The 13th PharmaMarketing Summit is the premium forum bringing pharmaceutical marketing executives together with solution providers. The Summit offers an intimate environment for a focused discussion of key new drivers shaping pharmaceutical marketing and sales. Taking place at the Eau Palm Beach Resort & Spa, Palm Beach, May 11-13, 2015, the Summit includes presentations on digital marketing, building a brand strategy, generating new revenue streams and boosting physician engagement.
About Iris Interactive Corporation
Iris Interactive is an Independent Software Vendor and a leading provider of cloud based innovation and commercialization software to help companies to better commercialize new products and specifically achieve: faster launch and market penetration, higher sales and stronger brands. The Iris platform empowers internal and external teams to collaborate real time across multiple locations and time zones thus supporting virtualization.
About marcus evans Summits
marcus evans Summits are high level business forums for the world's leading decision-makers to meet, learn and discuss strategies and solutions. Held at exclusive locations around the world, these events provide attendees with a unique opportunity to individually tailor their schedules of keynote presentations, case studies, roundtables and one-on-one business meetings.
For more information, please visit: www.marcusevans.com